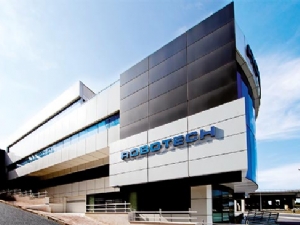 To adapt and lead the changing conditions of the field we belong in order to compete with the other companies while providing our customers the products without comprimising.
Since the foundation, Robotech A.G. developed products with high-technology and innovation for Ready-Made Clothing field. The quality and the price of products made Robotech A.G. a company that's known and demanded around the globe. We focus on the satisfaction of customers and the quality of products in order to become a respected brand in both national and international markets.
Robotech A.G. funded its own production facilities in Konya, spread along 30.000m2 area with a 6.000m2 indoor capacity, in order to produce every automat machine by the demanded customers. With 6 CNC machines, MAZAC CNC laser cutting machine and many conventional stalls in its production line, Robotech A.G. continues to manufacture. With the investment made in 2013, Robotech A.G. added 2 SIEMENS 5 axis CNC, 1 CNC Surface Grinding, 1 Laser Marking, 1 5 axis Cad Cam Systems and 1 CNC to its production line in order to compete with the opponent companies and lead the way in his field with the high-technology products. With these investments, Robotech A.G. will be the leading force in its field with machine parkour, manufacturing technology and variety of products.
Robotech A.G. managed to gain appreciation of many foreign companies by the quality of its products, the speed and success at R&D activities and superiority at programming. By making partnership deals with these companies, first, the products exported to Europe and then to the whole World. There many active Robotech A.G. machines around the world which were distributed by the help of these partner companies.